Mason Cash 3-in-1 Baker's Spoon
by

Mason Cash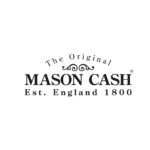 $11.95
The Baker's Spoon with Jar Scraper is ideal for beating, stirring and blending. This 3-in-1 utensil features measurements for 1 tablespoon, 1 teaspoon and 1/2 teaspoon on the spoon head and a silicone jar scraper and spatula on the handle.
The Mason Cash Innovative Kitchen range has been designed to offer multi-function to home bakers and cooks to give perfect results every time.
In stock
The 3-in-1 Baker's Spoon is an all purpose solid sppon which also features measurements and a silicone jar scraper end.
Crafted from solid beechwood, the Mason Cash Innovative Kitchen tools have been designed for comfort and multi-functionality.