There is no doubt that Williamson Teas are the absolute benchmark in the world of exceptionally fine teas. 100% UTZ and Rainforest Alliance certified, Williamson tea uses only the finest from their own farms in Kenya. The exceedingly fine quality and exceptionally fine flavour of Williamson Teas make them the perfect match for all things Whisk & Pin here in Australia.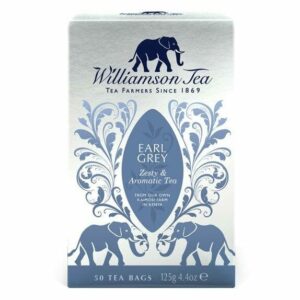 Williamson Tea
A black tea blend with a zesty and aromatic character literally bursting with the aroma of Mediterranean Bergamot oranges. This elegant tea is grown exclusively on Williamson farms and contains only natural Earl Grey flavours.
This perfect box of Williamson Tea contains 50 teabags foil sealed for freshness. An excellent selection for refilling your elephant caddies.