Mason Cash Cane S9 (32cm) Mixing Bowl
by

Mason Cash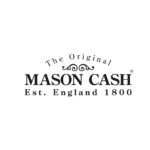 $79.95
The Mason Cash S9 (32cm) mixing bowl is perfect for batches of bread, cookie, pastry, batter and pudding mixtures. Made from high quality, chip resistant earthenware, the bowl is heavy enough to counter the tendency to move during manual mixing. Care & Use: Microwave Safe, dishwasher Safe. L 320 mm x W 320 mm x H 165 mm
Out of stock
You may also like…
Chasseur
Stylish coloured silicone tools with ergonomic beechwood handles. Heat resistant, non-scratch removable dishwasher safe silicone head.
Whisk & Pin
Deliciously creamy and full of organic wild blueberries & wholesome buttermilk powder. Serve them warm with clotted cream and a dollop of blueberry coulis.
Mason Cash
The Baker's Spoon with Jar Scraper is ideal for beating, stirring and blending. This 3-in-1 utensil features measurements for 1 tablespoon, 1 teaspoon and 1/2 teaspoon on the spoon head and a silicone jar scraper and spatula on the handle. The Mason Cash Innovative Kitchen range has been designed to offer multi-function to home bakers and cooks to give perfect results every time.