Whisk & Pin
Bircher Muesli is one of the ultimate health breakfasts, yet thoroughly creamy and luxurious in taste. Our Whisk & Pin recipe combines rolled oats with dried granny smith apples, ground whole lemons and wild figs; creating a sophisticated, nutritious breakfast cereal. Bircher Muesli is wheat free, high in fibre, as well as being all natural, preservative free and contains no added fats or sugars.
Preparation Instructions
To soak overnight: Combine ½ cup of our Bircher Muesli with ½ cup of your preferred milk, or your choice of fruit juice. Stand overnight in the fridge for a soft creamy breakfast. Serve with yoghurt & honey.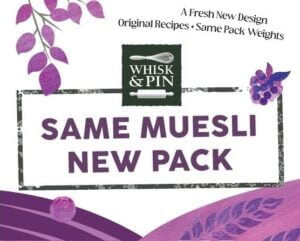 What intense, amazing form of the humble lemon. This is created by drying the entire lemon then "blitzing" to a powder. We use to create a wonderful flavour to our Bircher Muesli – soaking our Bircher overnight with milk or juice allows the lemon to infuse the entire blend in combination and balance of figs, oats and barberries. Sensational!
Lemon Powder can be used in many recipes savoury and sweet where a punch of lemon is required.
Biosota Organics
Manuka Honey + Ginger and Lemon blends spicy ginger with warm Australian Manuka honey and a hint of lemon for a refreshing kick to your system. Treat your immune system to a delicious boost by using it in your tea or great for stir-fry veggies, dressings, snacks, or desserts. Use for a honey-baked chicken or an exotic ginger dip.
Whisk & Pin Dried Lemon Slices are made from fresh in season fruit to complement our Online In-The-Raw range. Here at Whisk & Pin we use both Dried Lemon & Orange rings and powder in Our Muesli and Pancake mixes. Uses: Get creative; add them to salads, recipes or add to your favourite cocktails – not only do they look great, they taste amazing too !
Whisk & Pin
Whisk & Pin is proud to bring you this deliciously more-ish snack made from freshly- roasted Australian nuts and aromatic spices.
Munch on our nuts during Happy Hour or any time you're feeling peckish. Toss some through a salad or grab a handful for the ultimate healthy snack.
Harukado
A refreshing scent that adds the fruity feeling of Italian lemon to the scent of rosemary. When you want to clear your head and improve your memory.