Whisk & Pin
A French-inspired flavour sensation combining the aromatic flavours of rosemary with mouth-watering and flavoursome pink salt flakes. An enticing snack that is perfect at the bar, after dinner, or anytime you need a munch!
Whisk & Pin
Our Tropical Muesli is quite simply the muesli lovers' muesli. Multi-grained, chewy and nutty, this classic blend is stamped with unquestionable character and taste. Australian dried mangoes, oranges, wild figs and cashews embody this muesli with great flavour as well as fibre and goodness. A satisfying and delicious start to your day.
this muesli is very high in fibre, as well as being all natural, preservative free and contains no added fats or sugars.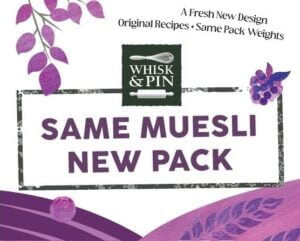 Cashews are grow as a tropical evergreen tree, up to 14 metre's high, wow! Bold, softer texture than other nuts and very easy to eat in muesli. Totally unique in texture and flavour, natural or spiced up – an all-round favourite healthy snack!