Whisk & Pin
Our superbly delicious BERRY CRUNCH MUESLI is packed with 16 amazing ingredients. Every mouthful is a sensational combination of freeze-dried Australian berries, spiced pecans, nutritious seeds, and crunchy golden multi-grains baked in Blue Mountains honey and organic Canadian maple syrup
This best seller is full of antioxidants and is high in fibre. Eat it for breakfast, as a delicious snack with yoghurt, sprinkle over stewed fruit or grab a handful when you're peckish.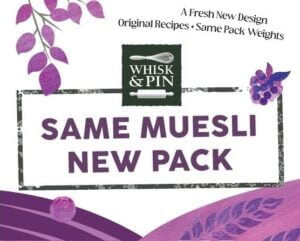 Whisk & Pin
Whisk & Pin is proud to bring you this deliciously more-ish snack made from freshly- roasted Australian nuts and aromatic spices.
Munch on our nuts during Happy Hour or any time you're feeling peckish. Toss some through a salad or grab a handful for the ultimate healthy snack.