Whisk & Pin
*** Please enjoy our Hazelnut & Pear Porridge this winter – we had to swap the Peach as we have been unable to source this fruit from Australia shores anymore. Enjoy with our own grown Sweet William Pear – Delicious! New packaging through soon !! ***
At Whisk & Pin we make our porridge with old fashioned rolled oats straight from the paddock, dried pears, a hint of spice and a touch of hazelnut. It's gorgeous, hearty, healthy and nutritious. Our delicious Hazelnut & Pear Porridge is high in fibre and contains no added fats or sugars.
Preparation Instructions
Combine ½ cup Porridge Mix with 1 cup of water or milk. Bring to the boil, simmer gently, stirring until the porridge is a creamy consistency. Serve with honey or fresh fruit to taste.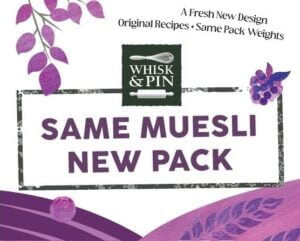 Silvertip Specialty Tea
In this fruity and sweet fruit composition the fresh peach taste is subtly mixed up with a hint of precious cream. Delicious as a summer iced tea. Serve without milk.