Whisk & Pin
*** Please enjoy our Hazelnut & Pear Porridge this winter – we had to swap the Peach as we have been unable to source this fruit from Australia shores anymore. Enjoy with our own grown Sweet William Pear – Delicious! New packaging through soon !! ***
At Whisk & Pin we make our porridge with old fashioned rolled oats straight from the paddock, dried pears, a hint of spice and a touch of hazelnut. It's gorgeous, hearty, healthy and nutritious. Our delicious Hazelnut & Pear Porridge is high in fibre and contains no added fats or sugars.
Preparation Instructions
Combine ½ cup Porridge Mix with 1 cup of water or milk. Bring to the boil, simmer gently, stirring until the porridge is a creamy consistency. Serve with honey or fresh fruit to taste.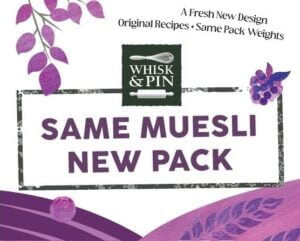 Hazelnuts are perfect in working with chocolate and also used to make praline, though we do use them in muesli also. Roasted or blanched natural these little guys are packed full of energy and plenty of health benefits. Though Nutella does snap up most of the worlds crops of Hazelnuts there are still plenty to go round most of the time!
Whisk & Pin
A fabulous mix of dried fruits, roasted nuts and seeds, Trail Mix is both wheat free and gluten free, as well as being very high in fibre.
It is an excellent source of the vitamins A, C & E and minerals (iron, magnesium, potassium and zinc). Whisk & Pin Trail Mix is one of the most nutritionally dense snack foods available.