Whisk & Pin
Whisk & Pin Mountain Granola is exactly how toasted muesli is meant to be: crunchy, moreish and sweetened with just the right amount of Blue Mountains Honey. It is packed full of almonds, toasted rolled oats, triticale, pepitas, cranberries, sultanas, linseeds and apricots and is a fantastic start to everyone's day.
Enjoy Mountain Granola throughout the day – as a sustaining, wholesome breakfast; or sprinkled over yoghurt for a healthy lunch; as a delicious topping for fruit crumbles or simply nibble straight from the pack.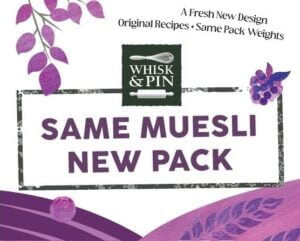 Whisk & Pin
This marvellously more-ish, dairy free, fruit and nut bar is HANDCRAFTED with our original Mountain Granola, Blue Mountains honey, almond and apricot. At last - a granola bar that not only nourishes your body, but inspires your tastebuds. Thank you for being a part of our passion for locally made gourmet food - a simple yet rewarding joy in life!