Stir Crazy Mandarin & Mint Fizz Cordial
by

Stir Crazy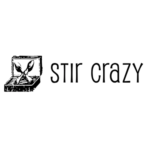 $18.95
A wonderfully sweet and tangy cordial brimming with mandarin aromas and taste and a little fresh mint . Blend with soda and a few additional fresh torn mint leaves.
Our favourite way to mix: Mandarin Martini.
Blend 30ml Stir Crazy Mandarin & Mint Fizz Cordial with a measure of vodka and contreau or triple sec, ice and soda water. Garnish with edible flowers.